About Commercial Kitchen Solutions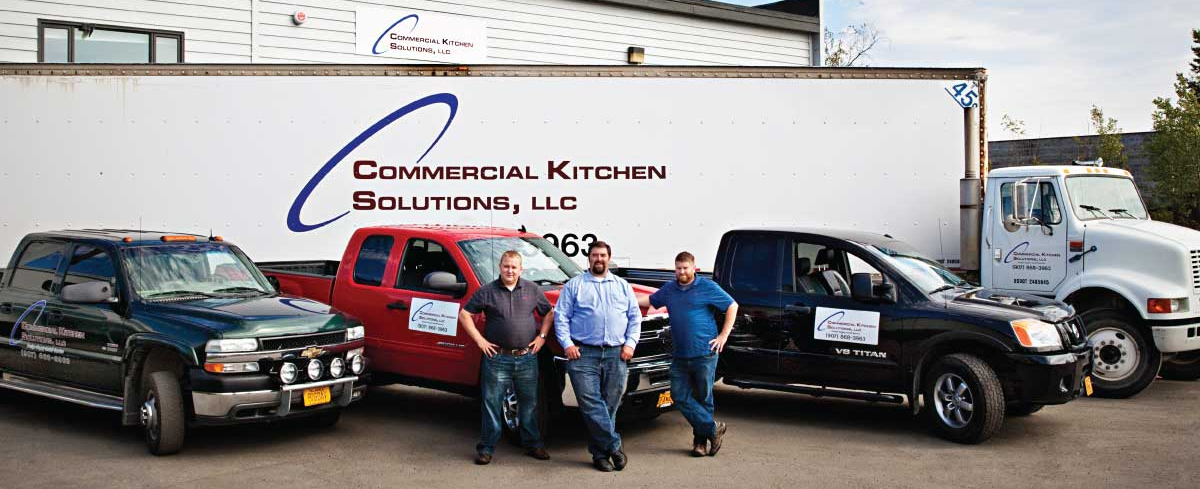 We are a locally owned, Anchorage based company
In house design, we can provide design services and work hand in hand with the customers, their architects and builders.
Contract department, we have an excellent reputation with many of the construction companies that we work with on public bid projects.
New equipment in stock, we have a large supply of new equipment including; refrigerators, freezers, ranges, fryers, microwaves, coffee makers etc.
Largest supply and variety of clean used equipment with a warranty in the state
10,000 square foot showroom full of small wares including; pots, pans, knives, scales pizza supplies, baking supplies, bar supplies etc.
We carry a full line of dish chemicals and cleaning supplies
In house repair shop where you can drop off equipment in need of repair
Service, we have a team of technicians that can provide service calls and preventative maintenance
Owner Info:
Commercial Kitchen Solutions was started in 2012 by Dave Sheffrey when he parted ways with Anchorage Restaurant Supply. Dave has been the in-house designer and contract specialist for Anchorage Restaurant Supply for 11 years and prior to that he was at Columbia Restaurant Supply for 5 years. Dave is a "Certified Foodservice Professional," and "ServSafe," Certified. Dave uses all the current design software and works dir ectly with architects and engineers.

Our Staff:
From our sales team to the bookkeeping and warehouse staff, we have over hundred years of experience in the food service industry and most of that experience is from right here in Alaska. We have worked in big cities and small remote villages, we have become experts in meeting the logistical challenge that Alaska offers.
Our Warehouse and Showroom:
Our facility allows us to be able to receive, organize and consolidate equipment for several projects at a time. We also stock new and used equipment, along with small wares. The small wares consist of pots, pans, utensils, glassware and china, everything you would need to open and run a restaurant.
Competitive Pricing:
Commercial Kitchen Solutions is a registered dealer with "Excell Marketing and Procurement". Excell is composed of over a 150 dealers throughout the nation, with their combined purchasing power they negotiate the best deals and freight breaks.